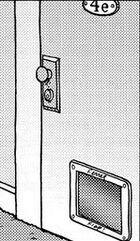 Apartment 4E is right next door to the Wilco apartment. It is occupied by Sheila Garcia and her family including her daughter's pet, Mr Squiggly, the family taking up residence in March 2001.[2]

It seems that Satchel's room is right on the other side of the dividing wall as a ferret flap was eventually installed in his room in the dividing wall between the two apartments so that Fungo Squiggly can easily visit his friend Satchel, much to Bucky's displeasure.[3]

During the 2011 Weaseleaks episode the door to Apartment 4E was covered by sticky note "memos" disparaging ferrets.[4]

Bucky has tried to break into the Garcia's apartment with the aim of venting his wrath on Fungo. In February 2002 he knocked a large hole in the dry lining on the Wilco side and also managed to also knock a small hole into the Garcia's before Rob, alerted by the noise, stopped him.[5] Fungo subsequently threw some of the debris at Bucky through the hole, hitting him on the head. [6][7]

In 2011 he engaged I.D.I.O.T.I.C. to recover his closet door[8] which Fungo had stolen and Bob Jimbob, the agent assigned to the task, started to cut a hole in the dividing wall in order to gain access to the Garcia's apartment,[9] being unaware of the existence of the ferret flap that had been installed in Satchel's room.[10]
At the time of the Weaseleaks episode in 2011,[4] 10 years later, the front door has changed slightly, the number is shown with a capital 'E' as '4E' rather than '4e', there is an additional lock below the main lock and the ferret flap that was in the front door no longer appears to be there.
Community content is available under
CC-BY-SA
unless otherwise noted.