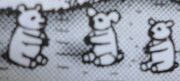 Bucky
owns a miniature teddy bear named "
Smacky
", obtained by his refusing to exchange toys with
Satchel
at a McDoodles restaurant even though each had the toy the other wanted. It is one of the few objects he shows great affection. According to
Rob
, Bucky cries every time he loses him.
One time, Bucky, Satchel and Smacky were at a children's playground and when they had to leave, they accidently left Smacky in the toy sandbox much to Bucky's displeasure. Satchel was later able to find "him" and return it to Bucky. Though Satchel was never thanked for this action.